Mad Kat plate

for Lou Lou!

another design by the customer

A cool simpsons theme!

A wonderful customers Tatoo made into a plate. Tat shown lower left

A pretty cool Eeyore!

Design by customer. This is one of the more intricate plates I have done.

All American Mickey!

wolf logo and stitch!

I try to provide a rough which somewhat varies from actual design. (actual plate on right)

customers pic of Dog shown above (obscured pic)

Customers Rottweiler with flag back

SanFrancisco Harbor Airbrushed

Airbrushed painting of customers supplied photo

Here's a cool one!

A 9 ball concept I tried to take to table level

Trick woodgrain back with violin up front!

Customers Harley who loves Dolphins also!

Customers design!

Drag racing fan plate.

Customers name in chrome on drum

Earnhardt car and portrait

A customers very original logo

Star Trek Plate

Pet (Dog) Portrait and name

A twist on the Von Dutch style eye

Vette/Chevy flags
Portions of the proceeds on the 2 plates below will go to Pine Ridge Reservation Relief efforts

*SPECIAL* Oglala Sioux Flag $20 shipped *SPECIAL*


*SPECIAL* $20 shipped *SPECIAL*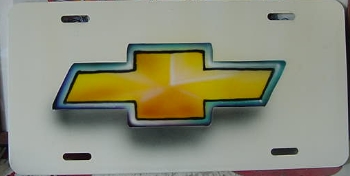 Chevrolet plates

Dodge Mopar license plates

The Dolphin tag looks a little funky because it was done in pearls and fooled the camera
Although these aren't all of the plates that I have done, it's a good representation of my work. Complete payment or AT LEAST 50% deposit (non returnable) must made prior to commencement of work. All payments are final and non refundable. Look at my work first before ordering.